FutureOfTV 4: Watch Together, While Apart? Can Cable Comeback?
Will TV Be Social Again? And other topics!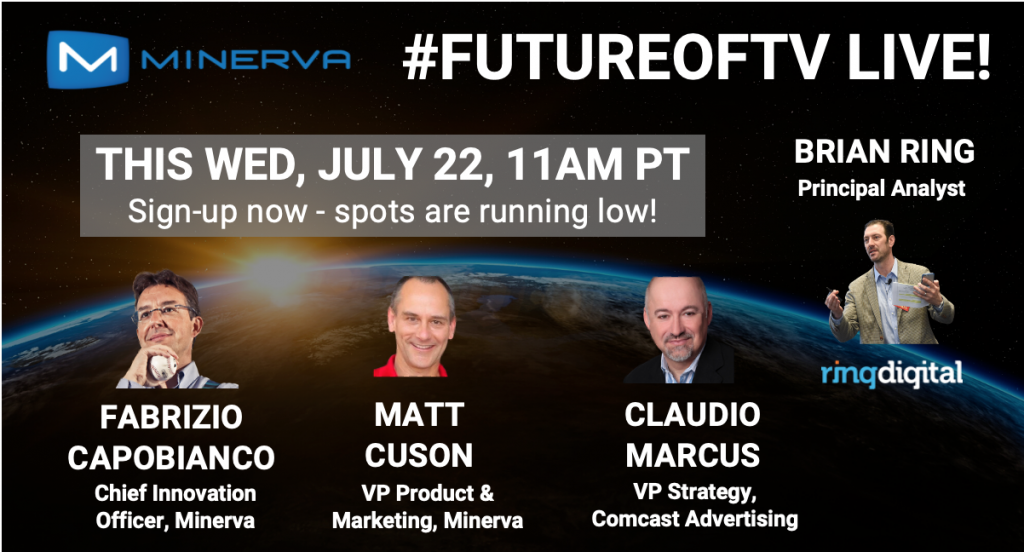 Date/Time
July 22, 2020 at 11:00 AM in Pacific Time (US and Canada)
Brian Ring here, thanks for visiting. This is Ring Digital's first #FutureOfTV Live Webinar / Panel! With collaboration from Minerva Networks, it's going to be the best darn webinar, period.
Register now and you'll get an exclusive, condensed version the day after.
What's on the docket?
First, we'll look at our latest survey research on the future of TV viewing. The report, "Watch Together: Is the Future of TV Solitary or Social?" probes generic areas of interest such as customer satisfaction and also dives deep into specialized, shared TV experiences, including the ability to watch with others, while apart. But we're going beyond that.
Some of the key questions we'll tackle:
(1) What are the top 3 must-have features for any virtual watch party experience?
(2) What do sports viewers want in interactive, covid fan experiences?
(3) After years of steady decline, is cable on the verge of a comeback?
(4) What makes up a great TV user experience?
Featuring:
Fabrizio Capobianco, Chief Innovation Officer at Minerva
Matt Cuson, VP of Product at Minerva
Claudio Marcus, VP Strategy at Comcast Advertising
For more on the topic, see my latest column on Fierce:
https://www.fiercevideo.com/cable/industry-voices-ring-cable-comeback-survey-suggests-51-not-at-all-frustrated