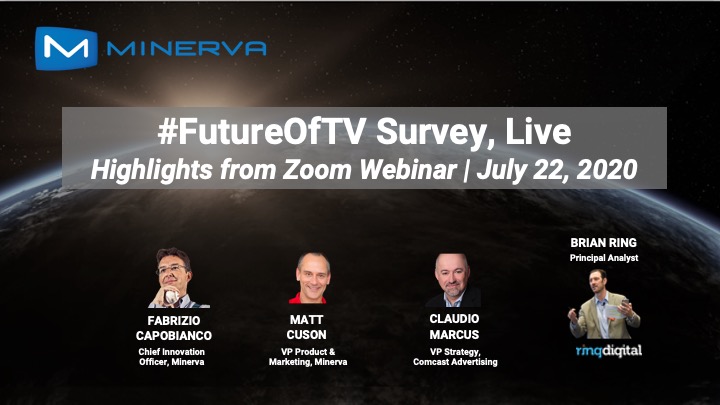 If you missed the July webinar hosted by Minerva Networks and Ring Digital, here's an opportunity to see what you missed. Submit the following form to watch a condensed 12-minute video of the event, which includes all the best takes from that session. If you prefer to read about it, you can find our summary blog post here.
Register for access to this latest video, where you'll hear Matt Cuson, VP of Product & Marketing at Minerva, Fabrizio Capobianco, Chief Innovation Officer at Minerva, Brian Ring of Ring Digital llc, and special guest Claudio Marcus, VP Strategy at Comcast Advertising discuss the latest datapoints surfaced by Ring Digital's #FutureOfTV Survey, Watch Together: Is the Future of TV Solitary or Social?
Topics include:
How many consumers watch in a lean-back vs. a lean-forward mode?
How can operators build user experiences that exploit their strongest advantages?
How appealing is "Watch Together" for live sports content?
Will "Watch Together" use cases work well with non-sports content?
What are the most important content navigational experiences, from the perspective of the 1,101 consumers in the Ring Digital survey?
Should you have any questions, please contact your Minerva sales representative or email us at sales@minervanetworks.com
REGISTER TO WATCH THE WEBINAR