If you missed our recent webinar hosted by Minerva Networks and Ring Digital, you're in luck. Below is a summary sharing some of the best takes from the session.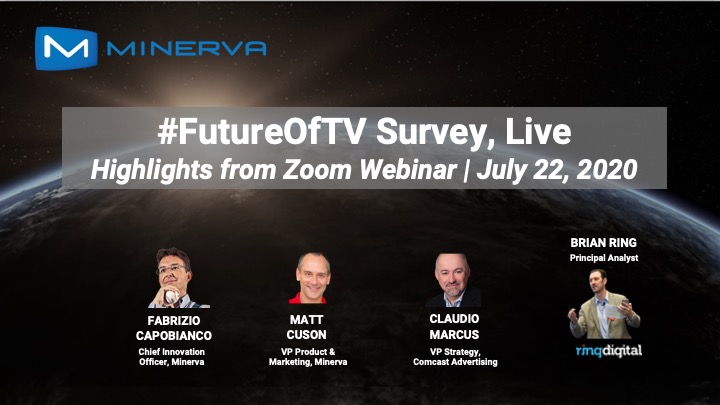 The stars of the show were Matt Cuson, VP of Product & Marketing for Minerva, Fabrizio Capobianco, Chief Innovation Officer of Minerva, as well as our special guest Claudio Marcus, VP of Strategy at Comcast Advertising. Moderator Brian Ring brought the questions and a fresh consumer survey on video viewing behavior; the full free report is here – Survey: 39% of Live Sports viewers have interest in virtual Watch Parties 
Claudio Marcus started off the discussion reflecting on a different study – this one done by Hulu – called Generation Stream. The report outlines streaming behaviors in four quadrants: Social vs. Solitary; and Lean-forward vs. Lean-back. "Perhaps most interesting is the lean back number," said Claudio. "If you take the two buckets on that side, that's 66% of the total — so two-thirds of the audience essentially still sort of prefers a lean back experience."
The four quadrants also set the stage Minerva's most complex challenge: Not only to create the best place for the best content for a single use case or quadrant – but for all of them. As Cuson commented: "The game of changed for operators in pay TV. From a product POV, it used to be a one to many for operators. It's pretty clear that model isn't going to work anymore. Operators have to be sensitive to all different types of users and to be able to innovate for each group."
The discussion segued to "Watch Together," a powerful platform Minerva has integrated from its Summer of 2019 acquisition of Tok.tv. Fabrizio Capobianco explained one important rationale for the transaction: content rights that operators have.
"The reason we were looking for a partner is that the sports teams we served – Juventus, Real Madrid, Barcelona – they don't have the rights to show the game live. My final dream was to be able to sit in front of the TV and just say, 'Hey call Brian, we're going to watch Giants baseball together' and then we'd have a laid-back experience. For me, I want to watch the game with a beer in my hand, so it's meant to be audio-enabled and not require typing. So, where we've recreated that natural experience, that was really successful."
Indeed, Ring's survey data showed that 39% of sports viewers had interest in this use case. But while it's clear that sports has the high-emotion appeal that is a perfect fit for Watch Together use cases, Minerva has aggressively expanded into the live TV and entertainment domain as well.
Their first major event was the Oscars. The result? The Minerva team found an entirely different segment of consumers, 70% of which were women, that resonated with the Watch Together experience in a totally different way. And for Fabrizio, this underscores how engagement can be deepened across a range of genres.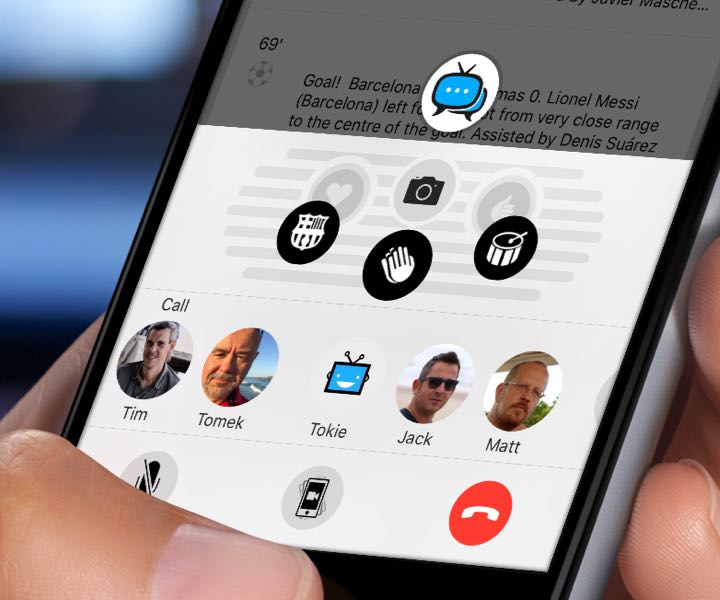 "Personally, I watched the papal election with my dad and that experience was phenomenal. So for me live news events have great potential. And the other major insight we found – the most amazing experiences aren't necessarily with fifty people. You only need one person to watch something with for that to be a very compelling experience. It changes the way you watch television."
These varied and deeply engaging experiences, which are built on top of the best content, are major differentiators for operators, according to Matt Cuson. "If you're the content owner, you want a direct to consumer strategy. But if you're a pay TV operator, your competitive advantage is really local. It's your local geography. Every one of your subscribers represents a local interest. If they like eSports great; if they like Rubik's cube solvers, great; your job is to get it to them and create a good experience around it. And yes, that can be a Watch Together experience.
Ring presented another datapoint on the most important TV content navigational features. Not surprising was how popular the Linear TV Guide is. However, "content browsing" and then also especially "recommendations" both scored on the lower side of the scale presented in the survey. Cuson, informed by his expertise, gave a plausible answer.
"I do think [recommendations] are important but what's essential is combining recommendations with search, or combining recommendations in terms of how you restructure a channel guide or how you reorder stripes on the fly for a personalized experience. You need to create the whole experience as personalized, not a single piece of content as being specifically recommended without context."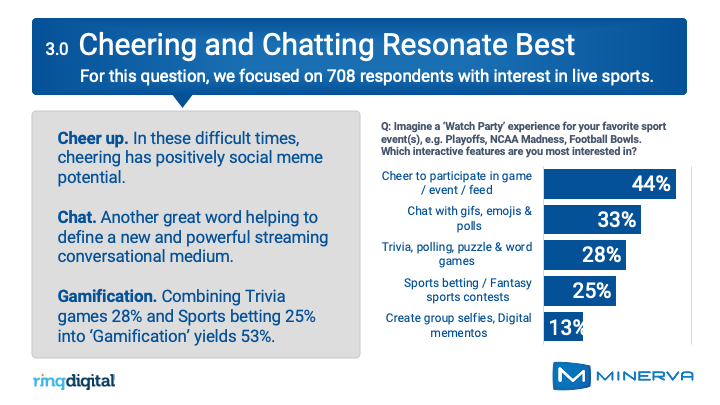 The next datapoint discussed was Ring's favorite of the report (See image left). In it, the survey asks respondents to focus only on major sporting events and select the interactive features respondents are most interested in. Most selected 2 responses and the single most popular response was "Cheer to participate in game / event / feed," with 44% of the survey panel making that selection.
Mr. Marcus liked that option as well. "I couldn't agree more with cheering. I would love to be able to cheer, remotely."
Matt Cuson followed up on that idea noting that all of these use cases work well with sports, and that Minerva's strategy vis-à-vis empowering operators with interactivity is to start out from the position that live content – sports, news, live events and all others – is the most powerful starting point for operators to build TV services that can re-build TV systems to prepare for growth.
"To enable these operators to create the best place for the best content means we have to take advantage of the fact that they have the live sports content, live news content, it has high emotional appeal, and we want to drive our innovation on top of those advantages and amplify them."
The discussion ended on another fascinating component of the survey results as well as the empirical experiences Fabrizio has had in pioneering Watch Together use cases for the top UEFA football teams globally.
"With respect to this popular 'cheering' feature, the way we've built the Minerva client is to have a carousel of options for sounds and so you can have sport-specific or even team-specific options that are important creative hooks. But also it's worth noting, while the 'selfie' option may not have resonated as well in this survey, we know from our experience operating the Watch Together platform for years is that people actually really loved that feature."
Indeed, over 12 million selfies taken by soccer fans in the Tok.tv database are evidence that where fans who may not have thought about capturing a TV watching memory ahead of time loved the opportunity to do so when it was presented in the right context.
"For us, our vision, we want our product to answer a simple need: I don't want to adapt to television. I want television to adapt to me. That's a central goal for our innovation efforts including not only Watch Together but also Smart DVR as well."