Minerva 10 combines cloud services, distributed processing and innovative client applications for both IP set-top boxes and IP/QAM gateways to deliver advanced personalization, ease of content discovery and responsive navigation, while preserving investment in legacy cable infrastructure
May 5, 2015, Chicago, USA – INTX 2015 — Minerva Networks, a leading provider of software solutions for the delivery of entertainment services, will demonstrate several unique features of its Minerva 10 platform, aimed at cable operators, at the INTX 2015 show. The new Minerva platform, featuring a highly personalized user experience powered by a patent pending distributed processing architecture and a cloud-based Back Office, offers several advanced capabilities in the areas of content discovery, user interface responsiveness, breadth of device support and analytics.
Ease of Content Discovery: The Minerva 10 Landing Page provides subscribers with personalized recommendations for programming available across Live, VOD, Catch Up and DVR content sources. Users can also apply filters to narrow down large VOD libraries, significantly improving content discovery. The Landing Page, in combination with the Minerva 10 Filter engine, enables a significant reduction in time spent by subscribers searching for relevant content while enhancing overall content discovery.
Responsive User Experience: The Minerva 10 platform's distributed architecture not only caches metadata through its Edge component, accelerating their delivery to the client application, but it also off-loads computationally intensive functionality from the client, insuring a responsive user experience. This unique feature of the Minerva platform is very beneficial in large cable deployments spanning multiple plants and geographies. Extensive performance benchmarking has demonstrated that Minerva's Edge nodes typically improve response times by more than 50%.
Broad Device Support: By off-loading functionality typically performed by the client application to the Edge node, Minerva 10 reduces the complexity and performance requirements of client devices. The Minerva platform supports a broad range of native and HTML-5 client applications for iOS and Android mobile devices, popular streaming products like Roku and Amazon Fire TV, IP set-top boxes and hybrid IP/QAM gateways.
Real-time Analytics and Reporting: The new Minerva platform features robust cloud-based Back Office services including real-time analytics. Minerva 10 makes it easy for operators to tailor offers to specific subscriber segments, by region, account or device type.
"Minerva 10's unique feature set, including support for standard IP set-top boxes, hybrid IP/QAM gateways and leading consumer streaming devices, will allow cable operators to rapidly and cost-effectively launch a broad range of advanced services", said Eric Freund, Minerva's Vice President of Product Marketing. "Our new solution paves the way towards an all IP delivery model and provides cable operators with a great deal of flexibility vis-a-vis deployment and monetization strategies."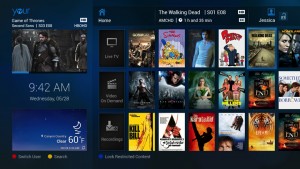 Minerva 10's distributed architecture enables flexible deployment models. The Back Office can be installed virtually anywhere, including data centers and private or public cloud environments, without compromising service responsiveness. The Minerva platform also enables operators to collect more data and gain deeper insights on their subscribers to better segment their customer base and optimize their offerings.
Minerva will be demonstrating the Minerva 10 platform, including its hybrid IP/QAM gateway and streaming media player clients, at INTX 2015 in Chicago, booth #1119.
ABOUT MINERVA NETWORKS
Minerva is a leading provider of software platforms for connected entertainment. By supporting a best of breed open ecosystem, the Minerva platform has been deployed by over 290 operators worldwide to offer enhanced next-generation TV entertainment services.
For more information, please visit www.minervanetworks.com
Contact:
Bina Mirchandani
bmirchandani@minervanetworks.com
(408) 240-1204