Minerva 10 combines cloud services, distributed processing and innovative client applications to deliver advanced personalization, ease of content discovery and responsive navigation
April 27, 2015, London, UK – TV Connect  — Minerva Networks, a leading provider of software solutions for the delivery of entertainment services, will demonstrate several unique breakthroughs of its Minerva 10 platform at the upcoming 2015 TV Connect show. The new Minerva platform, featuring broad device support powered by its patent pending distributed processing architecture and cloud-based Back Office, offers several advanced capabilities in the areas of content discovery, user interface responsiveness and analytics.
Ease of Content Discovery: The Minerva 10 Landing Page provides subscribers with personalized recommendations for programming available across Live, VOD, Catch Up and DVR content sources. Users can also apply filters to narrow down large VOD libraries, significantly improving content discovery. The Landing Page, in combination with the Minerva 10 Filter engine, enables a significant reduction in time spent by subscribers searching for relevant content while enhancing overall content discovery.
Responsive User Experience: The Minerva 10 platform's distributed architecture not only caches metadata through its Edge component, accelerating their delivery to the client application, but it also off-loads computationally intensive functionality from the client, insuring a responsive user experience. Extensive performance benchmarking has demonstrated that Minerva's Edge nodes typically improve response times by more than 50%.
Real-time Analytics and Reporting: The new Minerva platform features robust cloud-based Back Office services including real-time analytics. Minerva 10 makes it easy for operators to tailor offers to specific subscriber segments, by region, account or device type.
"Legacy solutions are no longer capable of supporting the rate of innovation required to remain competitive in the pay TV arena," said Mauro Bonomi, Minerva's CEO. "The unique Minerva 10 capabilities we are demonstrating here at TV Connect enable operators to offer highly targeted and personalized television services that will delight the most demanding subscribers."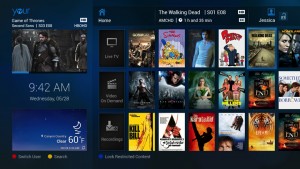 Minerva 10's distributed architecture enables flexible deployment models. The Back Office can be installed virtually anywhere, including data centers and private or public cloud environments, without compromising service responsiveness. The Minerva platform also enables operators to collect more data and gain deeper insights on their subscribers to better segment their customer base and optimize their offerings.
Minerva will be demonstrating the Minerva 10 platform, including both its set-top box and streaming media player clients at TV Connect London stand #59. The new platform has been shortlisted for the TV Connect Awards for Best Service Delivery Platform for IPTV & OTT TV.
ABOUT MINERVA NETWORKS
Minerva is a leading provider of software platforms for connected entertainment. By supporting a best of breed open ecosystem, the Minerva platform has been deployed by over 290 operators worldwide to offer enhanced next-generation TV entertainment services.
For more information, please visit www.minervanetworks.com
Contact:
Bina Mirchandani
bmirchandani@minervanetworks.com
(408) 240-1204