The competition is increasing with new OTT entrants. Content costs are climbing. There is rapidly increasing demand for personalized television, delivering a consistent and responsive experience anytime, anywhere, and on any device. Operators are already making investments to retain existing customers while offering new types of services intended to drive broadband subscriptions and attract a new segment of OTT subscribers – essentially hedging their bets by testing variations of traditional television along with OTT services and broadband to determine which combination will deliver the highest return on investment.
Moody's Investors Service predicts cable operators are well-positioned against current OTT threats, giving them time to adapt to the changing video landscape. Moody predicts cable operators have about five years – the traditional length of the high-yield investment cycle – to come up with a solution.
In order to remain competitive and create new value for customers, content owners and advertisers, facilities-based pay TV operators need to quickly evolve their service delivery platforms to better reach their subscribers, engage them with a compelling experience, and respond to their needs through improved analytics. By taking these steps, operators will be well positioned to deliver better television services enabling greater monetization and improved customer satisfaction. The time to take these steps is now.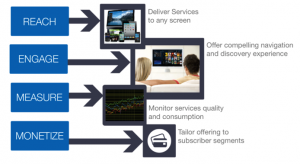 The Minerva Solution: Reach, Engage, Measure and Monetize
Minerva's new service delivery platform (Minerva 10) provides an unmatched set of unique features and capabilities to enable operators to deliver next generation television services across a variety of networks and devices.
Personalized HTML5-based client: Recommendations for Linear TV, DVR, VOD and SVOD are all presented to the user, enabling subscribers to begin watching relevant content with just a few clicks
Distributed architecture: Ensures operators can deliver a consistent and responsive cloud-based UI to a range of cost-effective consumer devices,
Flexible back office: By capturing and analyzing subscriber and device usage data through Minerva 10's cloud-based analytics platform, operators can gain the insights they need to tailor service offerings, identify and respond to emerging customer segmentation opportunities, and optimize their agreements with content partners and advertisers
With Minerva's solutions operators can now deploy a range of Pay TV packages; from feature rich, set-top box based services like whole home DVR, personalized VOD, and network-based time-shifting, to entry-level linear TV services to consumer electronics devices – all through a single back-office.