Maybe you experience it in your own home: When it comes to screen viewing, kids would rather be on an iPad. According to a research report from Miner & Co. Studio, televisions are no longer the screen of choice for kids who have ready access to tablets and smartphones. More than half (57%) of parents surveyed said their children now prefer to watch video on a handheld device rather than on TV.
I can tell you firsthand that my kids like the flexibility of switching from a show over to a Minecraft game or a YouTube video on their OWN tablet – so they don't have to argue with their sibling about the switch in programming. As of 2015, it is becoming rare that a family all watches the same TV show at the same time.
According to Ad Age, the impact on the traditional TV business in the distant future is hard to say. The near-term impact is already apparent in the Nielsen ratings. Year-to-date, every ad-supported kids channel but Turner's Cartoon Network is weathering significant C3 ratings declines. Thus far, Nickelodeon is enduring the roughest stretch of ratings turbulence, falling more than 30% among the kids 2-11 demo.

How can programmers and operators reach this "diminutive" demographic? Programmers are trying by offering their content through standalone over-the-top (OTT) subscriptions. For example, Nickelodeon is offering their Noggin OTT service for $5.99 a month, heading off entrants like Amazon and Netflix who are developing their own children's content. According to a recent report by Ooyala, OTT streaming video market in the United States will grow from a $4 billion business in 2014 to $8 to $12 billion in 2018. The report also points out that opportunities to attract subscribers with targeted programming such as sports, kids, foreign content, etc. will represent part of this growth.
What does this means for operators? Operators have the opportunity to offer bundled broadband solutions that will enable personalization and ease of content discovery that will attract and retain current subscribers, while enticing new viewers with a compelling user experience and broad device flexibility. These wee consumers unknowingly are now expecting compelling relevant programming available across Linear, VOD, Catch Up and DVR content sources on any screen, anywhere. They want complete personal control at internet speed.
Minerva's Solution
Minerva's service delivery platforms enable operators to offer a highly personalized television experience to a broad set of devices, while minimizing deployment costs through its open framework and flexible distributed architecture. By moving functionality into the network, operators can deliver a compelling experience to a wide range of devices, while insuring a consistent and responsive user experience.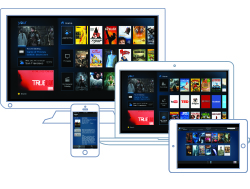 Minerva 10 features a powerful analytics sub-system that enables operators to collect more data and gain deeper insights on their subscribers' behavior to better segment their customer base and tailor their offerings.
With this insight, operators can offer relevant content across multiple sources to keep these young subscribers coming back for the content they care about most. With Minerva's Back Office and Analytics, this content can be monetized. By capturing and analyzing subscriber and device usage data through Minerva 10's cloud-based analytics platform, operators can gain the insights they need to tailor service offerings, identify and respond to emerging customer segmentation opportunities, and optimize their agreements with content partners and advertisers.
To find out more about how operators better reach their subscribers, engage them with a compelling experience, and improve customer satisfaction, visit www.minervanetworks.com/minerva-platform/.